---
---
---
Back in August I experienced some personal setbacks that directly led to an inadvertent "hiatus" from this blog which I had only begun publishing a couple of months beforehand. Granted, I had already been experiencing a slight lull in my posts, but previously mentioned setback put to rest any desires I had of ending the lull. During that time, my computer – the device on which I obtain, keep, save, load, produce, and listen to music (all of the music I have obtained throughout the past three or more years), as well as write, edit, rewrite, and publish this blog – as well as my iPhone – the device through which I rotate albums, listen to music, and subsequently analyze music for this blog – were stolen.
This caused quite the setback, as I was pretty much kept out of the metal loop of new releases, metal-related news, and more; thus putting my knowledge of metal far from the forefront. Until recently I was unable to return to writing the blog again, but during the holidays I was gifted a new laptop (a chromebook – sufficient for obtaining music and writing, but insufficient for making music. . . but . . . baby steps a la "What About Bob"). Also, I obtained a phone, albeit the worst phone in the world, which has the capability to hold five or six full album for my listening pleasure. Needless to say, the vast amount of music that I listen to for pleasure, and for this blog (don't worry; there's a great deal of overlap), forces me to switch out albums from the phone quite often.
Since August, not more than a few days have gone by that I haven't thought about resurrecting, so to speak VantaBlog. I feel as if I owe it to myself, and to my readers; what few there are, and obviously I hope that my passion for finding , reviewing and introducing others to new music impacts at least one stranger; and that those current readers introduce their metal-loving friends to my blog so that I may write to a larger audience. In order to make it up to myself, and others, I have decided to combine several writings/posts into one "comeback post" so that I may once more proceed with the regular cycle of publishing a new blog post; once or twice-per-month. During the time that my things were stolen I had been working very hard on what I thought, at that time, was going to be the best, most developed and realized blog posting that I had been able to publish. It was a review of the newest Meshuggah album; a review that I had written, rewritten, edited, and re-rewritten a hundred times in my head while I listened to the album driving around in my car whilst running errands. Sadly, the moment I had developed an actual rough draft, and had begun editing it, my precious computer was taken away from me. So, I am going to include a shortened and more to-the-point version of that review in the descriptions associated with the best of 2016 list, below.
---
---
---
In pouring over the year-end/best-of-2016 album lists of some of my favorite online blogs, columns, etc. I felt the motivation to put up my own 2016 best of list, albeit a bit late. I, however, have always liked to develop my best-of-whatever-year toward the end of January of the new year. This may seem unusual, but I feel that it gives me a chance to really look back on the previous year, look around and see if there's anything that i had forgotten, and to see if there's anything that I simply missed out on by checking out other year end lists. This is even more true with my current best-of-2016 list, as I had to look around some of my favorite and most respected metal blogs to rejuvenate my memory about some albums that I had been listening to around the time of the "Great Electronics Theft of 2016," as without being able to look back through my archives of downloads, digital notes regarding releases, and even my iPhone/iTunes library to see what albums I couldn't bare to delete in favour of newer releases, it was difficult to fully realize my 2016 list. After a great deal of searching, remembering, and more, I was able to finalize a list about which I feel quite good. So, without further ado:
VantaBlog's Top Ten Metal Albums of 2016 (with Honorable mentions)
10. Neurosis – Fires Within Fires:
I had a hard time attempting to decide which album to place in the number ten spot on this list, which iis – partially – why I have decided to inlcude honorable mentions. This Neurosis album probably won't/doesn't appear on a lot of year end lists for 2016. Honestly, I wasn't a huge Neurosis fan until their previous album, "Honor Found in Decay." Mostly, I really enjoyed the bands that noted Neurosis as a primary influence in their sound; the likes of Mastodon, Isis, Baroness, etc. So I triend numerous times to "get" Neurosis, and the "Honor. . . " album really made things make sense for me. I then was able to go back through their catalog and appreciate what they've done, the path they've forged, and the sound they had developed on their own. So when I heard "Fires. . . " I was able to listen to it from front to back – always a majoir qualifier for includion in any list of mine – but also the album made me go back and explore other Neurosis stuff: pro footage live shows, Tribes of Neurot material, Jarboe material, Neurorsis albums and their Tribes . . . companion albums, etc. So this album helped to revitalize my interest in Neurosis again in 2016; especially when it comes to thier live stuff. . . seeing them live is likely a soon-to-be-added bucket list item. Listen here
9. SubRosa – For This We Fought The Battle Of Ages: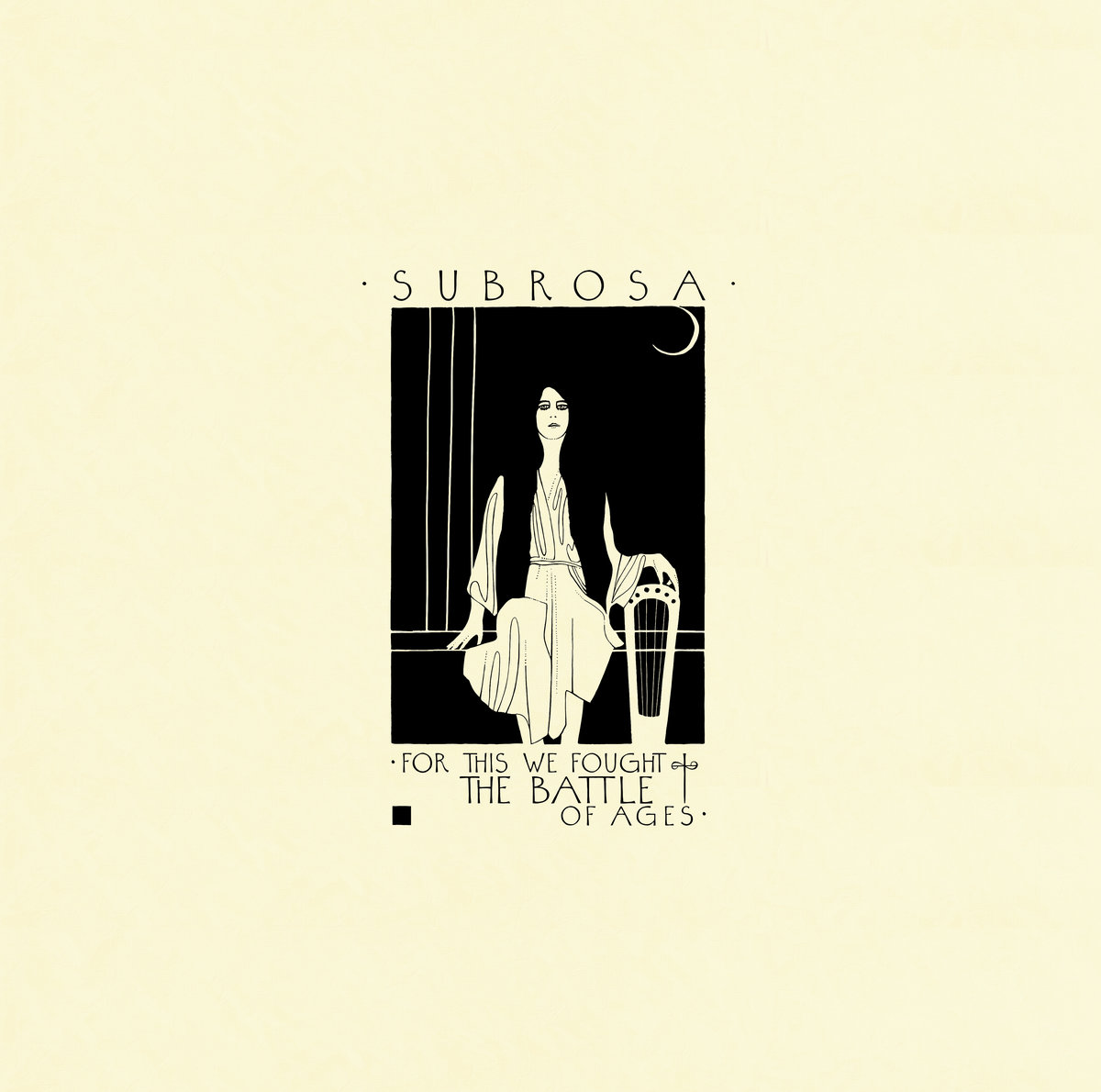 SubRosa is certainly an acquired taste. . . like a good wine or a complex coffee, it gets better over time with repeated listens. I was first turned on to SubRosa when their 2014 album was released, and there seemed to be a huge trend in underground metal towards sludge/doom stuff. The problem with the sludge/doom subgenre is that a lot of it is terrible. Any two or three individuals with some instruments, power chords, and ability to play slow with lots of disortion can form a sludge/doom band; as a result, there is a lot of completely terrible shit to wade through when exploring the genre. That's why a band such as SubRosa is really a lucious fountain in a desert of crap. If you're not familiar, SubRosa is a five-piece featuring two females who front the band and play cellos, violins, guitars, and provide most of the vocals. The drummer, bassist, and second guitarist are males who serve as the backbone of the band. The strings, combination of shrieks and softly sung vocals, precise and on-time lurch of the sludgey tempos set them ahead of the curve within the genre. It may not be for everyone, but afer repeated listens it really does provide something new and interesting for those with the patience to try it out right here.
8. Opeth – Sorceress:
Sorceress is the record that Opeth has been trying to make since they made the very conscious decision to move away from making metal, toward making progressive 70s influenced, complex, yet seemingly heavy music. Essentially, they began toying with the mostly-acoustic sound on "Damnation," the companion album to "Deliverance." At that time, however, it was just a one-off, as the band was still fully immersed in pushing the boundaries of death metal in their own way. This is their new sound fully fleshed out and realized. Fans of Opeth know that they've always been fans of semi-obscure European 1970s European act, Gentle Giant; and have always cited them as a primary influence, even in earlier Opeth albums; but that influence is as clear on "Sorceress" as it's ever been. Truthfully I was a bit surprised at how much this album rocks compared to my expectations, I actually excpected it to be more mellow; and while it's not an album that one may be included to mosh or headbang along with, the album really does strike a unique balance of beauty, power, and plan ol' rock. You'll certainly find your head nodding to the band's penchant for cyclical 6/8 time signatures while they build peaks and valleys that make-up most of the album's length. Everything really seems to work here, the band has added a bit more psychedelia to their brand of prog rock/metal, and somehow ends up putting a modern spin on an old school traditional sound.  and regardless if you're a new fan of Opeth (I assume they've drawn in some new fans with their newly developed sound over the past several years), or a long-time fan of the Swedish prog metal  mainstays, this record has to make you excited to see what Akerfeldt and company have up their sleeves in the future. For now, you can check our "Sorceress" right here
7. Fallujah – Dreamless:
I hate to sound redundant, but if you check out one of my first posts here on VantaBlog, I did a full review of Fallujah's "Dreamless." Fallujah have been gaining consistent popularity since their deput album, "The Leper Colony." Despite some line-up changes, as well as developments in their sound with each release, "Dreamless" is the album that Fallujah have been trying to make since they began incorporating a variety of elements beyond bone-crushing heavy riffs, ripping solos, and technical runs prevelant on their early releases. Though those elements are still present, the band has been incoroporating electronics (drums and keys), female vocals (both: sung and chanted), and other elements to create a sound that is all their own. Again, without tying to sound redundant; this is the album that Fallujah has been trying to make for some years now. This is their newly developed sound fully realized in the best way possible. They keep it heavy while adding touches of the aforementioned elements to make things interesting. It's always a pleasure when a band takes risks to expand their sound and succeeds with flying colors. That is what Fallujah has done here. If you're a fan of technical death metal and are not familiar with Fallujah, do yourself a favor and check out their entire catalog; you'll be glad that you did. I, myself, enjoy starting with a band's newest album and working my way backward; if you're into that method, or just want to hear "Dreamless" then click here
6. CB Murdoc – Here Be Dragons
(See Meshuggah – The Violent Reason of Sleep mini-review, for the CB Murdoc "Here Be Dragons' review.  . . listen to "Here Be Dragons" here.)
5. Astronoid – Air :
Astronoid is for those who are fans of Ghost Bath, Black Monolith, and Deafheaven. That's, however, not to say that Astronoid sounds the same as these bands, only that they kind of go down that same path. Astronoid, however, benefits from crystal clear, top of the line, high quality production. All of the vocals here are sung in a way that does not annoy (for my take on clean vocals in metal please see my very first introduction to VantaBlog), and the albums title, "Air" is quite fitting as the albums just seems to breath – a result of the immaculate production and the strong songwriting that the musicians exhibit here. Another album on the list that may not be for everyone, but after repeated listens, I thoroughly enjoy it. Confession: this album was in my rotation at the same time as the new Blood Incantation (described below), but I listened to this album more often than BI, as my girlfriend – who hates metal. . . like real metal – was in the car when i was doing the most listening, and she became an actual fan of Astronoid – probably the only album that she's actually enjoyed since I've begun writing this blog. See if you enjoy it as much as she, and I, did by checking it out here
4. Gorguts – Pleiades Dust
To borrow an idea from another one of my favorite online metal blogs (at this point I cannot remember which one), it's a rare event that a band is able to make a song that spans 33 plus minutes without boring the listener. This, however, is exactly what Gorguts has done here; they've created an album, more like an EP that is one track/song that spans over one half-hour. At no time during one's listening experience is the listener waiting for the next segment, or worse, for the song to end. Though Gorguts has been famous for changing line-ups for nearly every album (Canadian musical mastermind and full-time woodworker, Luc LeMay being the only consistent member) , resulting in large departures from the sound of their last line-up and its associated album; the newest Gorguts offering stays close to the style first introduced on the band's 2013 critically acclaimed LP, "Colored Sands." Similar to how Inter Arma produced their one-track "Cavern" EP between their most recent album and the critically acclaimed 2013 offering, "Sky Burial," the newest Gorguts material will, hopefully, be a very filling appetizer to tide fans over until a proper long play  entree arrives. Though I have no knowledge that this is what the band has planned on doing, it has served as a successful strategy for others in the past. – Let's hope that I'm right. . . the world could always use more of the brand thinking man's metal that Gorguts has become.. Listen to Pleiades' Dust here.
3. Inter Arma – Paradise Gallows:
Inter Arma are one of the most exciting metal acts in existence right now, and have been since 2013's "Sky Burial," the album that introduced the metal world to their subgenre defying sound that the metal world needed. 2013 marked the rise of popularity of sludge and doom, and other sludge/doom hybrids and mircogenres, like Funeral Doom, Drone,Stoner metal, etc.These subgenres aren't for everyone, especially those who are into more technical and faster sounds on the vast spectrum of metal. Inter Arma actually helped me, along with a couple of other bands from that same year, to find my entrance into this world of slower tempo, sometimes-snail-paced, yet equally heavy, metal landscapes that often push beyond the seven-to-ten minute mark(s).  Despite these characteristics, they don't just simply fall into the doom or sludge category, they sometimes use it as a starting/jumping off point. Inter Arma continues to successfully blend elements of technical/progressive metal, sludge, doom, and even slight hints of death and black metal at times. Long gone are the days where (especially as teenagers) one would purchase an album, open it's case, revel in the scent of new-cd/tape/record, pop it into its appropriate player, and begin to pour over every detail in the liner note: lyrics, production credits,dedications, thank yous, little letters from the musicians themselves, and most importantly – the artwork.. This experience helped the listener to create, or develop, an inherent direct connection between the album's graphics (sometimes an original piece per page in the linear notes, sometimes more obscure graphics,a larger fold-out piece, or something entirely different) and the aural art contained within the audio medium. Though I have not personally seen the entire physical package of this particular album (I've gone digital – who hasn't?), the cover of "Paradise Gallow" seems to fit perfectly with the songs on the album. . . colorful, slightly psychedelic, lurching against a harsh tide of rhythm, and (genre) blending together to churn out something so discordantly haunting yet delicate and beautiful. Check out this one here. Then check out everything else the band has to offer 'cause they're quite good!
 2. Blood Incantation – Starspawn: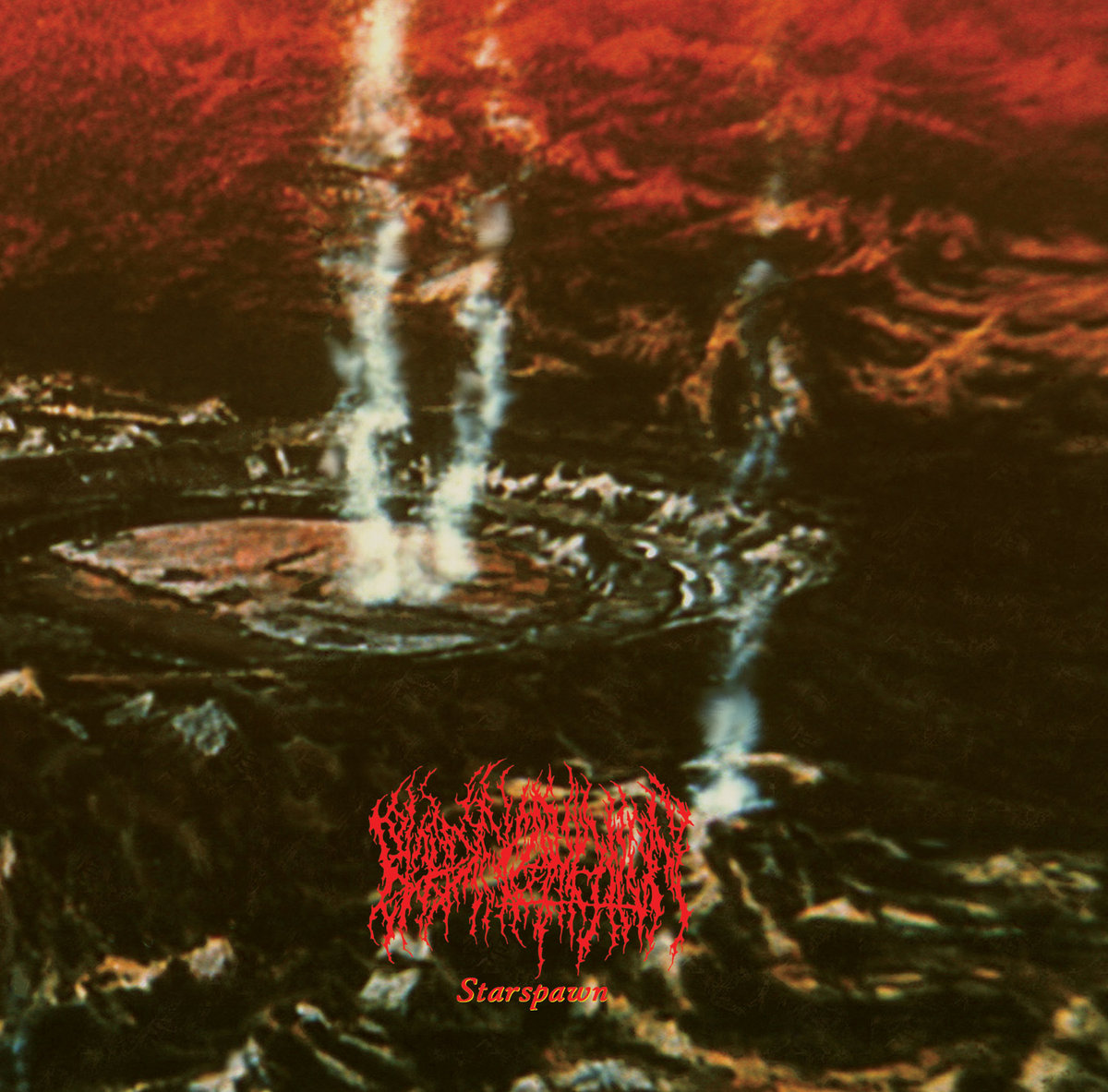 Blood Incantation is a band that I wish I had discovered a long time ago. I get it: their name is absolutely ridiculous…maybe even to the point of being corny, even amongst the ridiculous band names commonly found in death metal and its associated subgenres. This band falls into the technical death metal category, and is pretty relentless. One commenter, on a website I recently came across (possibly YouTube) noted that this is the band that modern Morbid Angel could have been. Starspawn follows the trend of metal bands using space as their influence for darkness, isolation, danger, and more. The songs are a relentless aural assault with quick, technical, and angular leads moving across the rhythm section(s) as meteor showers across the night sky. If you love tech death metal, and sometimes think that it is getting stale – all technically, speedy scale runs and blast beats and no heart – do yourself a favor and check out everything that Blood Incantation has done; it'll only make you excited for more, and you'll be glad that you did. Enjoy Starspawn right here.
1. Meshuggah – The Violent Sleep of Reason:
If I do say so myself, I do a pretty spot-on impression of the legendary actor, the late, great Jimmy Stewart. When I was in my adolescent years; around twelve years old, one of my all-time-favorite episodes of Saturday Night Live aired. This episode featured the at-the-time extremely popular actor/comedian, Jim Carey (a self-proclaimed metal head who scheduled filming around  Cannibal Corpse's European tour to have them appear during that small scene in Ace Ventura: Pet Detective as their tour conflicted with the original shooting dates. Rather than get another band, that's how hell-bent Carey was on getting CC for the now-infamous scene) as its host. . . and if memory serves me correctly, Soundgarden was the musical guest. At any rate, this particular episode featured a skit in which Jim Carey does an impersonation of Jimmy Stewart doing and impersonation of Jim Carey doing and impersonation of Jimmy Stewart; the final result, of course, due to Carey's penchant for accurate impersonations, was my own fairly decent Jimmy Stewart impression. What does this have to do with metal of any sort, let alone the newest Meshuggah release, "The Violent Sleep of Reason?" As nearly every modern metal fan is aware the recent emergency of a microgenre – one that I refuse to recognize as its own legitimate microgenre, is one referred to a "Djent -" the onomatopoeia of the guitar sound, found,specifically, in the works of Meshuggah. The emergence of Djent has brought fourth a seemingly endless bounty of individuals who discovered the music of Meshuggah around fifteen to twenty years after Meshuggah's debut in the underground metal scene; a debut that evolved from thrash but incorporated incredibly original futuristic staccato sounds from distorted down-tuned  eight-string guitars centered around non-stop mind boggling, rhythmically complex drumming such as polyrhythms, beat displacement and more. Meshuggah's sound that was all theirs; a sound that remained completely unique to their recordings until the late-2000s. Nowadays a metal fan doesn't have to look long, nor far, nor hard for a band – often referred to as Djent – that has attempted to take those complex rhythmic inspirations and distorted down-tuned tones resulting in some kind of Meshuggah wannabe. Too many of these bands aren't even aware of the roots of the influences that they're copying…they think that they've been inspired by ABC band, who really just sounds like a low-rent version of the sound Meshuggah has perfected, retooled, and re-perfected over the years. As a result, the metal landscape is filled with copies of copies of copies. . . or more to my original pont: an impersonation of an impersonation of an impersonation . . . Rather than fidning themselves lost in a field of wannabe's, however, ever since the emergence of the Djent movement (which Meshuggah themselves also refuse to recognize as a genre), each album of new material that the band releases, features a slighly more futuristic and edgier sond that they've developed, written, perfected and performed live to serve as a reminder that they – as originators of a sound – will always be lightyears ahead of the pack; alrways remaining two steps ahead of those who try to feebly copy the "Meshuggah sound" or "style." – A constant, but less in-your-face reminder (in the words of Dr. Dre) that "we started this gangster shit, and this the mutha-f#%kin' thanks we get?"
The Violent Sleep of Reason, however, does all of the aforemetnioned in terms of pushing the bands sound farther ahead, but also dose more. It also incorporates slight hints of the thrash sounds found in the earliest of Meshuggah's works, but works them into their constatnly evolving, yet always themselves, style. While all of the band's works have sounded other-worldly, this sounds like it come from the not-quite-so-near future. . . and did I forget to mention that it punishes and pulverize?.Did I forget to include the fact that the listener is bombasted with and onslaught of constant drums, break-your-neck riffts, speed, and straight ahead brutality? – Because it does. . . it's one the heaviest, most complex and brilliant Meshuggah records since just before the "Catch 33" era, and it doesn't quit. This album serves as a a reminder that no matter how many copycats are out there, Meshuggah will always be looking down from their valiant prog-metal thrones as they gaze upon the feeble masses attempting to climb to the top while barely managing to gain purchase. Listen to this masterpiece here if you have Spotify, or here if you don't.
---
One band, who released an album during 2016 that was inspired by Meshuggah, yet does not remotely attempt to copy thier style is CB Murdoc. – A band that I only discovered this year with their release of "Here Be Dragons." This album takes the rhythmic complexities, and polyrhythm structural ideas made famous by Meshuggah, but applies their own Converge-meets-Dillinger Escape Plan-meets-death-metal  and slightly hardcore punk aesthetic to it for a sound that is all their own.
The band, and its material, succeed in being just as talented, just as crazy and just as  brutal; though in a different manner, as Meshuggah. Murdoc refrains from sounding anything like them. Only the musically-inclined fans would be most apt to notice the Meshuggah influence. "Here Be Dragons" ended up being one of my favorite albums of the year, along with "The Violent Reason of Sleep." I actually ended up with these two albums on my iPhone (shortly before ti was stolen), and found myself bouncing between the two regularly. It got me to thinking: what if during the time when all of these late-teenage/twenty-somethings began copying Meshuggah, they all – like Murdoc – applied the concepts set forth by Meshuggah's music and applied it to establishing their own individual syles, or simply mixed it with an amalgamation of their favorite elements found in other bands/genres/sounds they equally enjoyed? Sure, maybe we'd end up with a few sound-alikes, a few Meshuggah wannabe's, perhaps even some CB Murdoc wannabes;  but I would be willing to bet that there wouldn't be a djent movement – copies of copies of copies – maybe. . . just maybe. . .we may just be lett with a bunch of original sounding, more diversely creative bands. . . just like CB Murod.
Honorable Mentions:
These are albums that wanted to put somewhere in my top ten (many fought for the number 10 spot) but I didn't feel right placing them on the list for one or more reasons.
Often the reason was that I, simply, hadn't listened to the album in its entirety, or enough to include it. When I listen to an album I like to fullly imerse myself in the experience with repeated listenings; other reasons may incude that it's an album that I only recently discovered after looking over some of my favoirte blogs' year end list, and I'm not going to be some copycat who acts as if he was all about an album throughout the year when I jsut discovered it in 2017. – Now don't be surprised if I end up loving one or two of these so much I write something about it in the coming months. – Remember: this blog is for me to introduce music to you. . . not just newly released music, but bands I have recently discovered regardless of how old the material may actually be. Other reasons for the Honorable Mentions list is that I love the band, and think it should be heard by others. . . especially when they make a comeback to their original sound that fans have been yearning for for years (looking in your direction Hetfield, Lars, Hammett, and Rob)
Metallica – Hardwired . . . to Self Destruct:
This is the best Metallica since ". . . And JUstice . . " oddly enough, in fears of polarizing their fanbase the band stuck to non-political (thus non-offenseive) lyrical themese. . . funny for a band whose last album using this now-classic thrash sound had such a political title. . . from a band that wrote "One." Regardless, here are rifft after riff after riff. It's a relentless wrecking ball when it comes to the musicianship on this record.
Dillinger Escape Plan – Dissociation :
Honestly. . . any why not be perfectly clear and honest about this, regardless how embarrassing it may be .. . I LOVE DEP, and I KNOW that this is their last album as they are calling it quits. I wanted soooo badly to catch them on the last, essentially "farewell" tour, but was unable to obtain tickets. At any rate, I KNOW this album is amazing…at least I know it WILL BE amazing. As in…I haven't listened to it yet. . . not even a snippet. I'm saving it..for when I feel like I really need some DEP in my life. I've been a fan since Calculating Infinity, and the band has pieced together an extremely solid catalog since their inception. So, this is in the HM list because I KNOW it's good, great, grand…an effin masterpiece…but I simply haven't heard it yet. BLASPHEMER! you say…I know….I know.
Alcest – Kodama: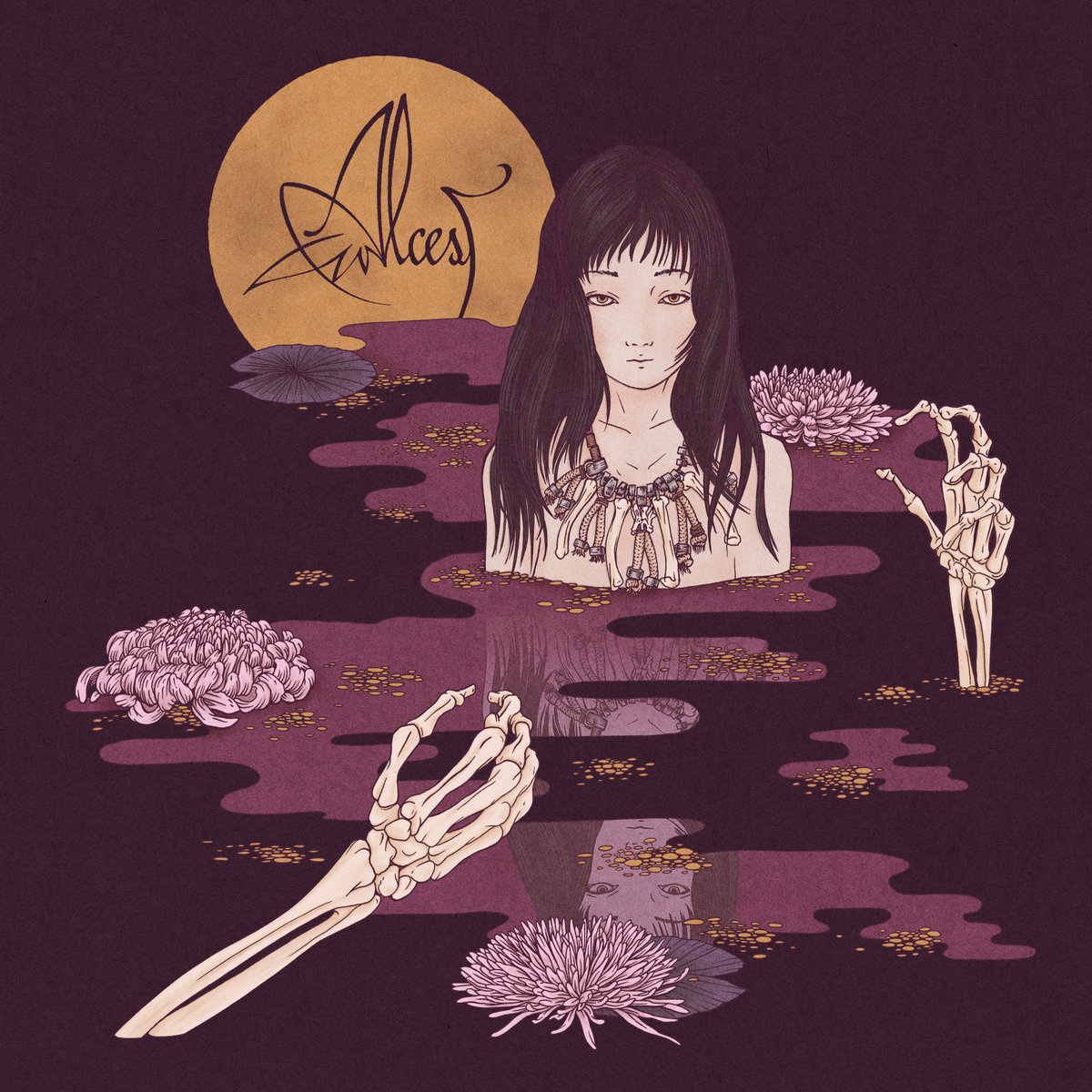 I've just discovered this 2016 album in the past week or two, so I can't take credit for having heard it during 2016. But…so far…it's original, and I want to hear it more and more. I certainly suggest you check it out…for fans of Deafheaven and the like. Though their last album, which I haven't heard (keep in mind this is the my first introduction to Alcest), was apparently compared to Coldplay in some circles; I've heard no nods towards any british adult comtemporary rock-esque sounds.
Revocation – Great is Our Sin: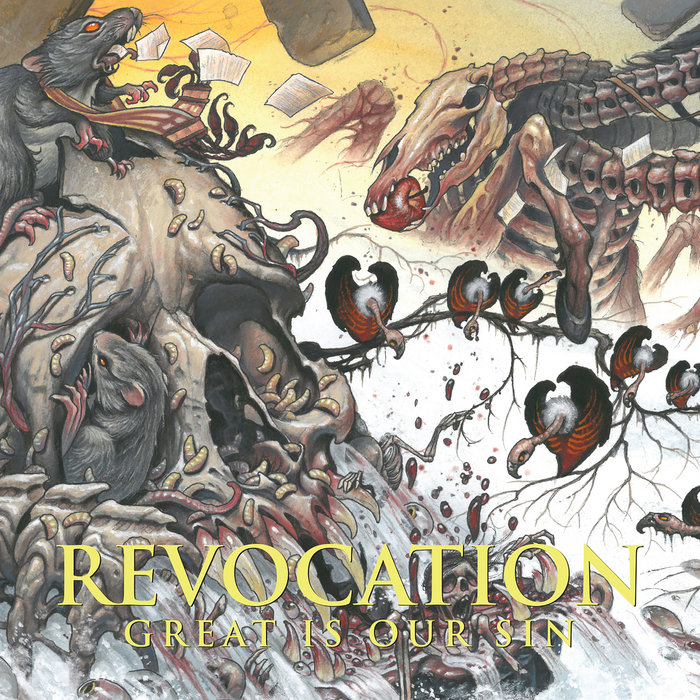 I'm not sure if metalcore has fallen our of favor or, simply, isn't as revered as it once was during . .. say the mid-to-late aughts (00's), but Revocation keep churning out burner after burner when it comes to albums.However, for whatever reason, I didn't see them on any year end album list for 2016. And whereas their last effort, "Deathless" was all over most best-of lists in 2014, I would argue that "Great Is Our Sin" is an even better release. It's a bit more technical, fast paced, relentless, just plain good headbanging fun: huge solos, monster get-stuck-in-your head/wish-I-had-written-that-one riffs, and more. I would go so far as to say that Revocation is the most important metalcore band since Unearth. Whereas, in my opinion (but. . .isn't this entire blog my opinion?), Unearth fell off a bit after "III: In The Eyes of Fire," before returning to form an album or two later; Revocation keeps making consistently fantastic metalcore. . . no frills…but just straight ahead metalcore rooted in thrash tradition. I actually considered this one strongly for my number 10 spot in the list above due to the amount of times I listened to this one on repeat. As a musician, I find Revocation to be inspiring and jaw-droppingly awesome with their great riffs, shifting time signatures and tempos, and overall great songwriting combined with entertaining songs that translate well in a live setting. If you missed this release during 2016, as it seems that it may have slipped through the proverbial cracks for many, check it out now!
Animals As Leaders – The Madness of Many
Having only heard the new AAL only once in its entirety (once again, due to the Great Electronics Heist of '16), I couldn't place it in my top ten list above. In fact, I don't even know where it could have/would have fallen. However, what I heard was excellent. It was quite and extreme, yet welcome, departure from the direction(s) of their previous releases. "The Madness . . . " was as diverse as an instrumental prog metal album could be with each song taking on its own sound often derived from a traditional sounds of various cultures. For example, one song is distinctly spanish-influenced, featuring flamenco style guitar and latin rhythms, another uses sitar-sounding tones and the appropriate scales/modes to create a middle-eastern flavor. All of these traditional cultural elements are combined with the progressive tendencies that are so essential to the core that is Animals As Leaders, thus making a highly original sounding record that took long-time fans by surprise in the best way possible. This is an album that could appeal to older jazz oriented crowds, as well as fans of prog-metal and many listeners in between. It successfully blurs the lines of metal, jazz, progressive rock, and more. It is certainly a must-hear for anyone remotely interested in the more progressive or progressive metal bands.
Radiohead – A Heart Shaped Pool
I know…this is a metal blog…Radiohead isn't metal. And while I'm not about to start putting all kinds of albums from other genres on this blog, and its unlikely I start a blog for all other genres of music to which I listen (metal is just so niche, so diverse as it spans all cultures, nationalities, race, etc; inclusive while being exclusive;  has hard and fast rules that beg to be broken; challenges its fans and musicians alike to define and redefine "heavy," while never forgetting its roots. . . and my love, rather pure passion, for it warrants its own blog), I am placing this album on this list. Why? – because its release inspired me to make this blog. I had considered video blogging, YouTube reviews, Facebook page(s),among other methods to get my opinions to the world, and to introduce friends and strangers to new metal music without having the same conversation(s) umpteen times with umpteen people.Then, when "A Heart Shaped Pool" was released,  I wrote a mini-review of it  Facebook which was well written and well received by my peers. Not only that, but I really love Radiohead. Like many of the bands in my top ten list, they've never been afraid to go against the grain, challenge their fans, challenge themselves, push boundaries, and take risks all in the name of developing something unique . From what I understand, the word on the street, or in the blogosphere, so to speak, is that there is a strong possibility that this is Radiohead's final record; if not forever, at least for a while. This album is great from start to finish, if it is to serve as the band's "Swan Song," it's a fitting tribute and retrospective that covers, but does not copy, all of Radiohead's strong points throughout their many iterations of their always-evolving sound. It still pushes their sound forward while offering a throwback to some of their earliest material. – And unlikely feat, and one that few bands could accomplish with mild success, let alone the monster success as Radiohead has done here and throughout their career.. Also, this album – at least the story behind it – bears a great deal of similarity to what Dillinger Escape Plan has done in establishing and gracefully ending their career.While it's not heavy, it's a lengthy but fantastic sonic voyage that bids a proper farewell, if that is/was the band's intention(s). If you're into more than metal, and I hope that you are (otherwise you may be selling yourself short by missing out on great music from all corners of the musical globe), then give this masterpiece a spin.
Throughout the next two weeks I plan to work on my next VantaBlog post, but will also periodically update this Honorable Mentions as I'm sure to find some 2016 releases that deserve to be mentioned here. Check back, if you're so inclined, as I plan to update this one for a couple of weeks, and I'm always tweaking and refining my typos and whatnot. Until next time, Enjoy! Horns up: \m/